Garden's Ketchup

may be the

healthiest ketchup

on the planet!

We've sourced only the healthiest nutritional ingredients to create a tasty,
truly world-class traditional ketchup.
(Garden's Ketchup is a Organic Gourmet Ketchup without any added sugar.
Instead, it's sweetened with Antioxidant Sugar.)
Garden's Ketchup has received overwhelming positive attention
for its remarkable taste in blind tests with various well-known chefs here in Denmark.

We've been working hard for 2 years and 11 months
to create a ketchup that not only tastes amazing,
but is in a class apart from the other ketchup brands you know.
We saw a BIG problem in the ketchup industry,
which we could not let slide.
What people don't know about ketchup is that it contains a huge amount of sugar.
In fact, using a spoonful of brand-name ketchup is like adding a chocolate bar to your meal!
There's actually more sugar in a cup
of ketchup than in a cup of ice cream.
It's true! And it contains more sugar than a cookie as well.
If you read the nutrition label on a bottle of ketchup from a well-known brand
– we won't name names
– you'll see the ingredients include high fructose corn syrup and corn syrup,
which are  actually is the same ingredient.

The company writes it this way so sugar won't show up as the main ingredient.
In reality, there's more sugar in this ketchup than there are tomatoes!
(Sugar isn't the only problem in ketchup.)
Many brands also add "natural flavorings",
which are really just flavour-boosting chemicals.
Yes, that's right – chemicals.
The best known of these is monosodium glutamate, or MSG.
Most big food companies engineer their food products to get us hooked on their food product,
so we crave it and buy it over and over again.
They're not concerned about your health,
or the health of your family and kids.
To these companies, the only thing that matters is making money.
So we asked ourselves us this question:
how could we make a traditional ketchup that tasted insanely good
– so good that people preferred it over regular ketchup?
And how could we make it as healthy as possible,
by getting rid of the toxic chemicals found in regular ketchup?
It seemed like a daunting task. And it was!
Simon tried over 1000 recipes and travelled the world to source the right ingredients.
He and the people who helped him thought it was an impossible task.
At one point, they joked that it would be easier to invent a flying car!
BUT, after endless efforts, day in and day out,
the result of all that sweat, hard work and frustration was totally worth it.
Now we have the privilege of bringing you a remarkable ketchup
that you can enjoy without risking your health or that of your loved ones!
Warmly,

Simon Dalhof
Founder of Garden's Ketchup.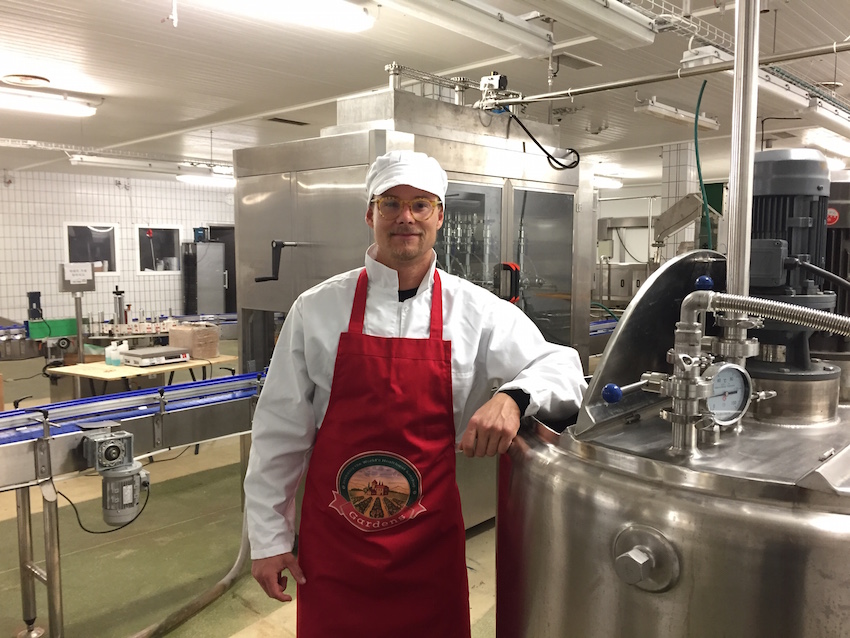 P.S. Yes we make our ketchup by ourself in our own small factory in Denmark.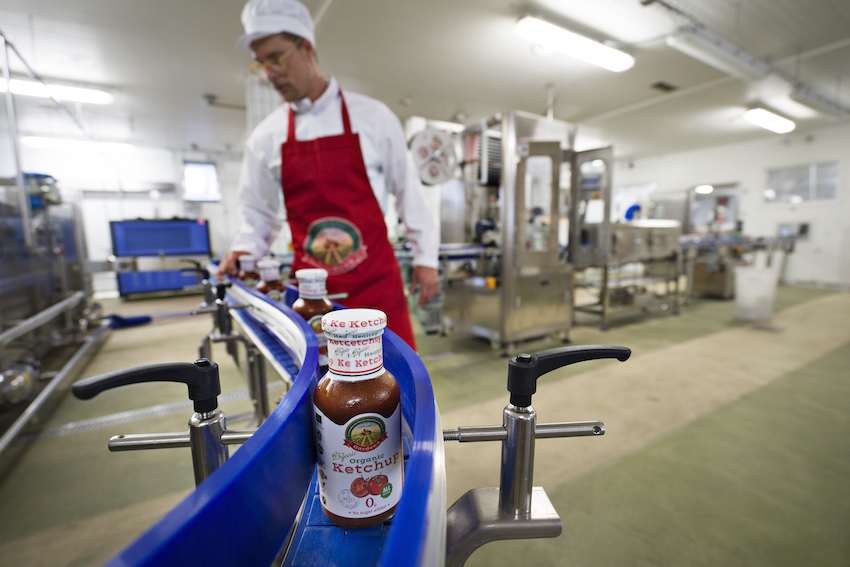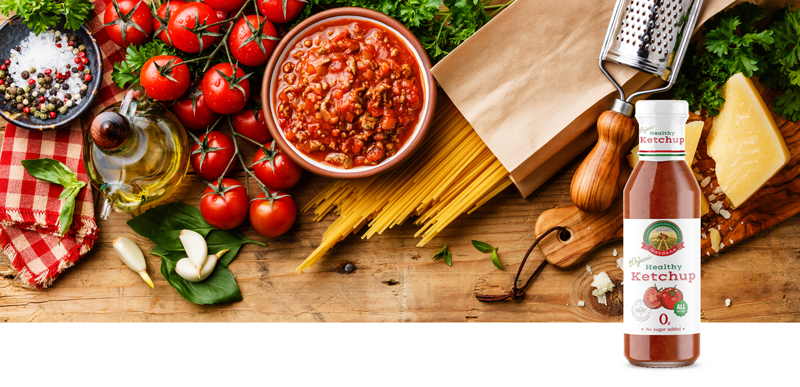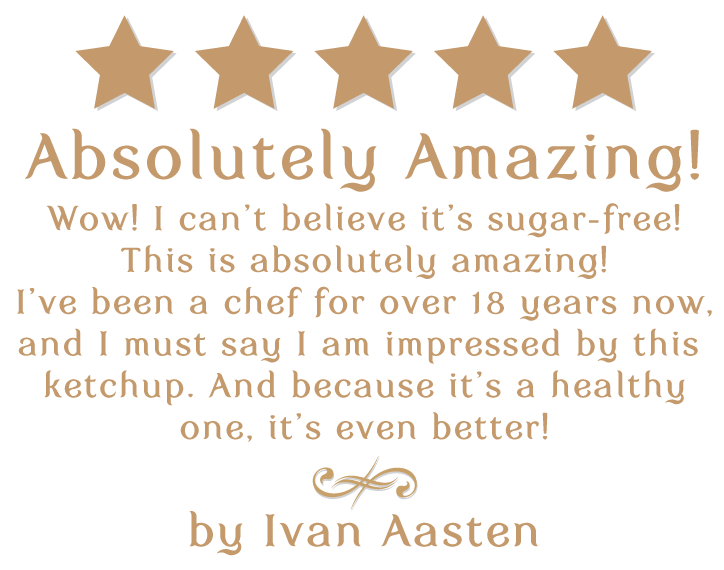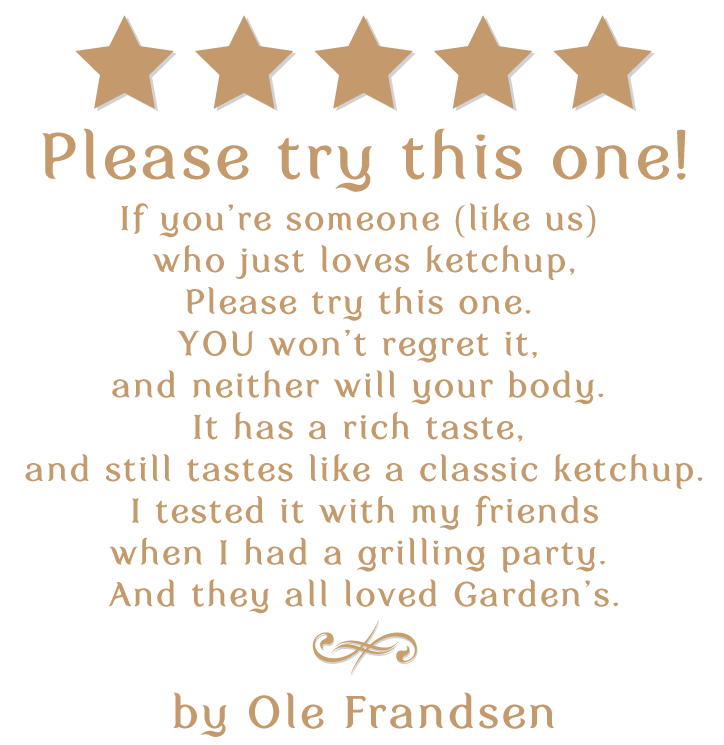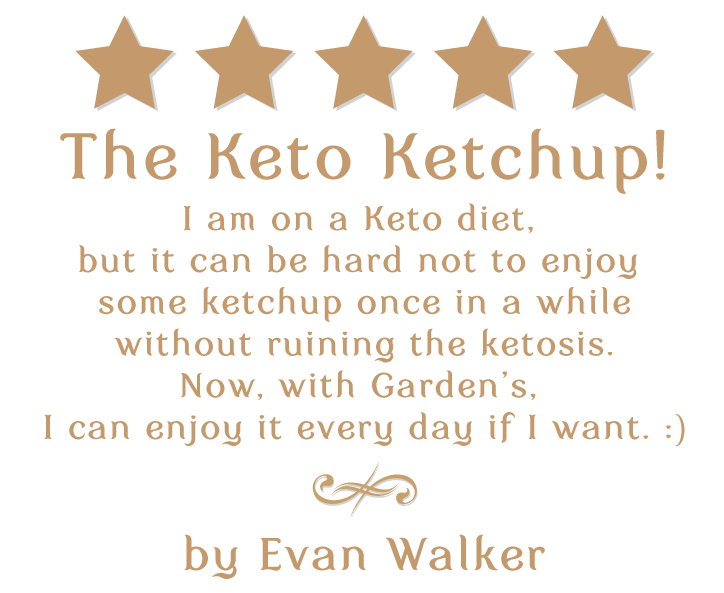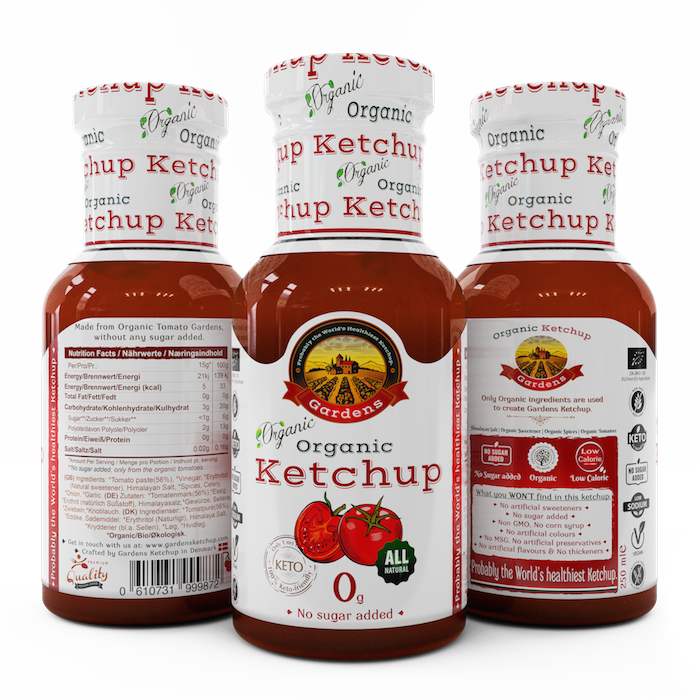 No sugar added, No artificial sweeteners, Non GMO, No corn syrup,




No MSG, No hidden ingredients, No pesticides & No gluten.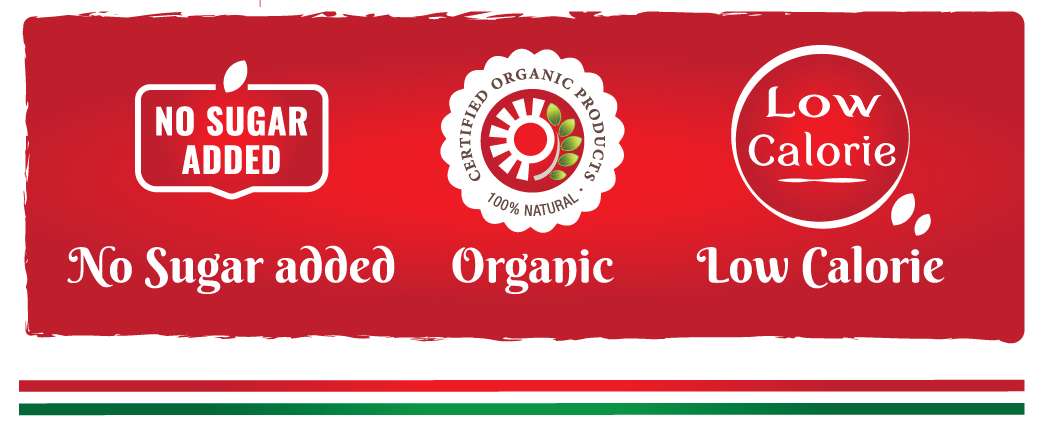 Organic | Low Sodium | No Sugar added | No GMO | No Gluten | No High Fructose Corn Syrup | Vegan | Keto friendly (Only 1 net carbs*)
*Per serving
| Serving size | 100 ml | % Daily Value* |
| --- | --- | --- |
| Amount per serving | | |
| Calories | 13 | |
| Calories from fat 0 | | |
| Total fat | 0g | |
| Sodium | 0.04g | 0.4% |
| Carbohydrate | 7g | 0.8% |
| Sugar | 0.8** | |
| Protein | 0g | |
**From the organic tomatoes. No sugar added!
*Percent Daily Value are based on a 2,000 calorie diet.


Conventional farmers use fertilizers, synthetic pesticides and herbicides, whereas organic farmers often rotate their crops, manage weeds by hand, and use environmentally generated compounds to help their plants grow.
We travelled across Europe to find the right tomato supplier. We went as far as Portugal to find the ones we wanted: rich tasty ones, all 100% organically sourced. Local farmers protect and nourish them from seed right through to the rich reddish tomato we use.
We choose organic tomatoes to make our paste because they contain 55 percent more vitamin C and 139 percent more phenolic content than factory-farmed tomatoes. These compounds can help fight disease.
Yes, our organic tomatoes cost much more. But we believe they make our ketchup worth the price.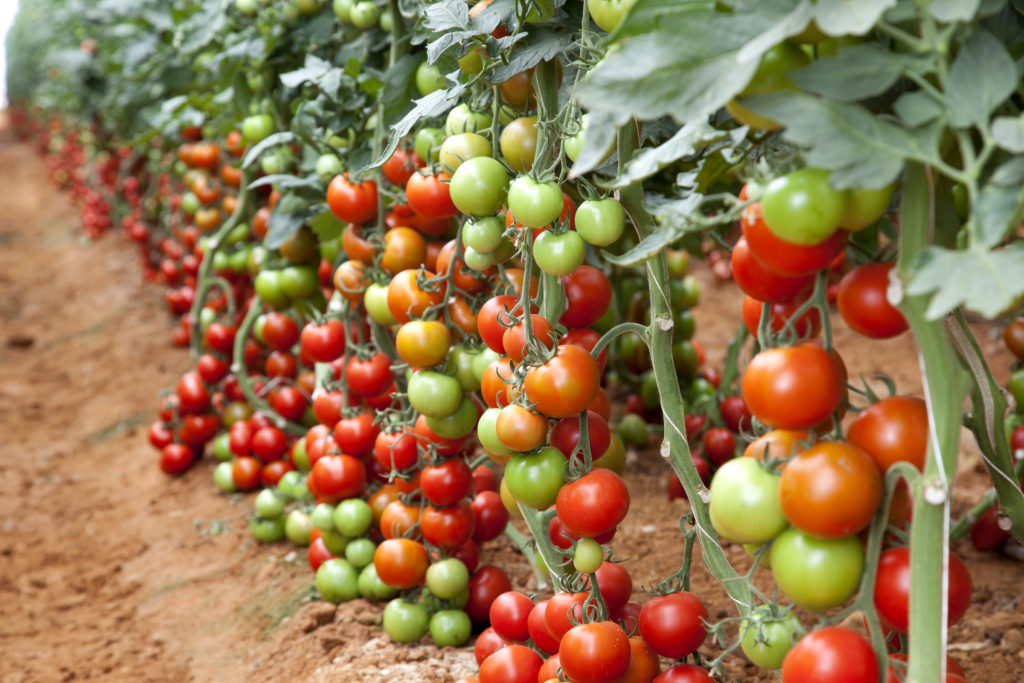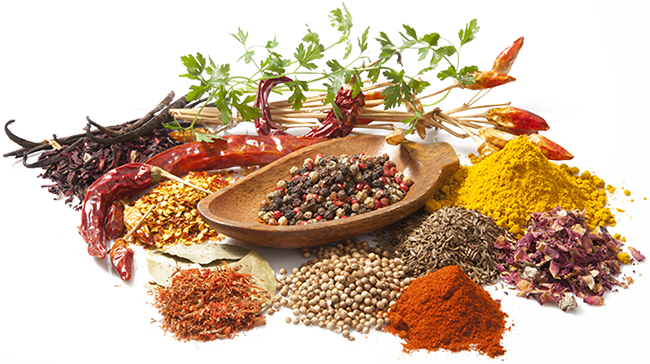 Did you know that non-organic spices contain pesticides, chemicals, genetic modifications and are exposed to radiation? This is why we use organic spices.
All of the spices in our ketchup come from organic farmers and have been grown in an organic environment.
They cost much more, too, but we believe they make our ketchup better. They're completely worth it.

Many commercial table salts undergo a bleaching process and contain aluminum derivatives and other ingredients known to be highly toxic to human health.
That's why we choose Himalayan Salt. It contains over 84 minerals and offers plenty of health benefits. Dr. Axe prefers Himalayan Salts because they:
Improve Respiratory Function
Balance the Body's pH
Are a Natural Digestive Aid
Purify the Air
Induce Better Sleep
Sure, Himalayan Salt costs much more than commercial table salt. But it's just better. And it makes our ketchup better. It's worth it.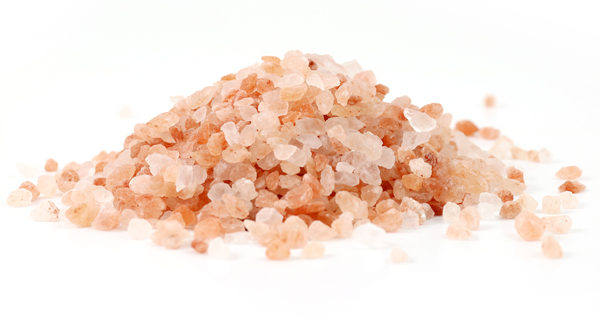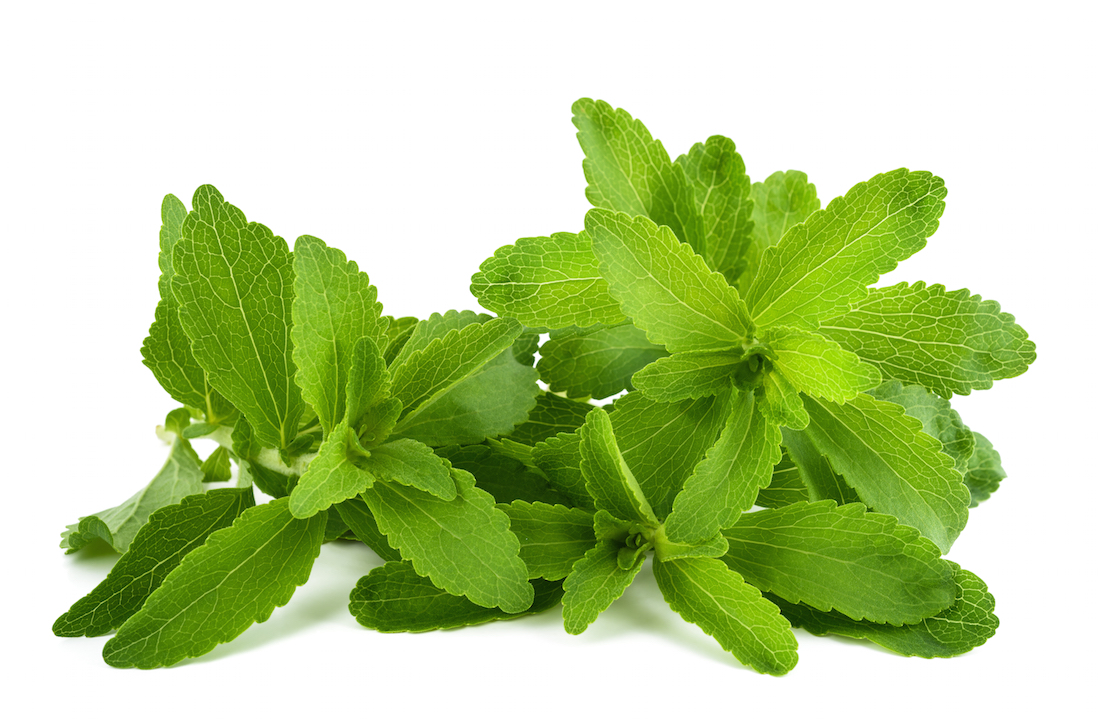 Most ketchups are filled with plenty of sugar because the big food companies want us to get hooked on their products.
But we believe that food should be good for us, and that we shouldn't risk our health by eating tasty food that will only destroy us in the long run.
In our ketchup, we've eliminated refined sugar. Instead, we use the famous Mamma's Zugar, a dry antioxidant that's been crystallized to look like regular sugar.
Mamma's Zugar is known as the "healthy sugar" of our time. It tastes just like regular sugar, but without the calories. This healthy sugar imparts an outstanding delicious taste to our ketchup – the good and natural way.
You guessed it: it costs much more to use Mamma's Zugar. But we believe it makes our ketchup completely worth it.